Neil's Customer Testimonials
How do our customers rate us?
What's it like having your ideas come to life in a Master-Craftsman's hands? The process of getting custom-made furniture and cabinets can sometimes take a small leap of faith, but Neil Santer's attention to clear communications all the way along give you the utmost confidence.  Hear it first hand from our clients: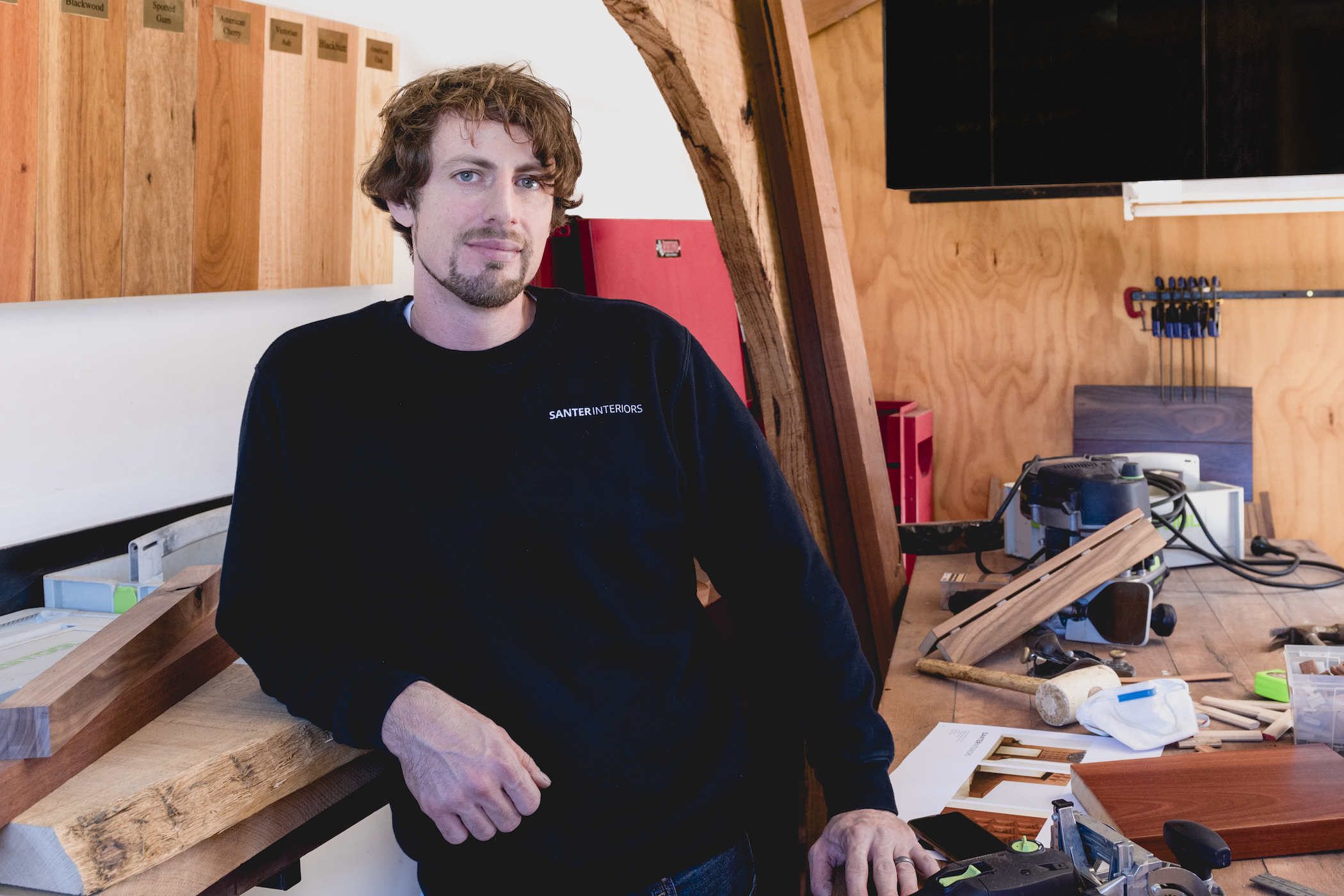 Neil Santer is not only an incredibly skilled cabinet maker, but also a stylish designer with an eye for where style meets practicality. He guided me through the design process and was genuinely interested to know how I liked to work and what would make my day easier. Throughout the construction and installation process he kept me up to date with progress and expected milestones. The finished product is an office that I enjoy walking into and am proud to bring clients and friends into. It has also meant that the functionality of my furniture now helps to keep me organised. Last, and definitely not least, it has a wow factor! Thanks so much Neil.  Clinton Russell  –  Francis Burt Chambers, Perth CBD
Santer Interiors built custom bookshelves for our home library in our federation home.
Neil was an absolute dream to work with through the whole project–highly consultative and responsive to helping us realise a long-held dream. The communication and project management through the whole build was outstanding and ultimately the craftsmanship of the library was extraordinary. We would use Neil again for any cabinetry project.   Melissa Bell – Cottesloe
I am so thrilled with the work that Neil did on my built in shelving unit. I had seen his work on his website and fell in love with the quality of work he does. The wood he chose goes perfect with my wood floors and the shelf accents my leather bound books so perfectly. Neil was professional and it's obvious that he loves the work that he does. I highly recommend him.  Carolyn Garduno – Iluka
Very satisfied. I approached Neil to design some fitted furniture for my residential property and was impressed with his approach and enthusiasm for what I was after in the design phase. The making of the pieces and the install were precise and overall very happy with the results.   Ben Keyser – Doubleview
I commissioned Neil to design and build made to measure American walnut office furniture, cabinetry and bookshelves for my 23rd floor CBD chambers. In addition to having to deal with a very complex and odd shaped room with eight changes of angle around its internal walls (almost none of which is 90 degrees), Neil had to contend with the ordinary complications caused by a busy CBD location including parking, access, small lifts, weekend and after hours work and so on. Not put off by those challenges, Neil overcome each of them in a thoroughly professional and flexible manner and the final product, which is stunning, is a true testament to his skill, craftsmanship, perseverance and his uncompromising perfectionism. I would thoroughly recommend Neil to anyone who truly values attention to detail and quality craftsmanship. Michael Sims – St Georges Terrace Perth CBD
We were extremely impressed with all aspects of Neil's work, from his accuracy in estimates of times and costs to the amazing finished product. We had not really ventured into the world of custom cabinetry before and were not too sure what to expect. What we received was a finished product that exceeded our expectations – in terms of quality of workmanship, attention to detail and value for money.  Tim Hammond – Mt Lawley
Neil has a flair for interior design combined with a wealth of experience which, when given free reign has resulted in an efficient use of space, materials and an environment that is a joy to work in. His easy-going character has also made the process fun!  Andrew Tait – Bayswater
We love our new balustrade!  should anyone need any custom cabinetry done then Santer Interiors are your guys.  Extreme patience and dedication to achieving an amazing finished product.  Pete Adams – Fremantle
Neil did a first class job in making a custom entertainment unit to my exact specification and well in advance of his timescale which was a welcome surprise. The finish and direction of grain are stunning and he is a pleasure to work with. I wouldn't hesitate to use him again and would certainly give him my highest recommendation.  Marion McLaren – Currambine
Very pleased with this beautiful jarrah furniture piece – from the beginning, Neil worked with us to create great functionality and flexibility whilst never compromising detail and precision. Peter Youngs – Gooseberry Hill
Neil did a painstaking and masterful job of these bookcases, and we couldn't be happier with the result, or the process with him. How many cabinet makers work to a 1mm-tolerance over 3 meters? What the photos do not reveal is Neil's attention to details – like the backing boards matching the 100-year-old floorboard widths and lining up perfectly with them. The images do not do this work justice. If you're considering commissioning a piece, I'd absolutely recommend him without hesitation. If you need a reference over the phone just ask Neil for my number. Neil Weeks – North Perth
Having commissioned Neil to build a walnut credenza, I would highly recommend him to anyone requiring quality bespoke furniture.  Neil went to great lengths to ensure the piece was exactly what I wanted and communicated constantly throughout construction to ensure it.  Neil's genuine love of his craft is evident in the attention to detail and finish.  It was a pleasure to deal with him and I hope to have another piece of his work soon.  Cathy Zorden – South Perth
From the outset, Neil showcased a high-level of professionalism. He promptly responded to queries and constantly communicated throughout the process to ensure that our specifications were being delivered. Neil is a highly talented cabinet maker with a great sense of passion, whom I gladly enjoyed working with and would definitely recommend to anyone in need of custom cabinetry work.  Joseph Henriquez – Morley
Thank you, Neil, for the beautifully made & fitted corner entertainment cabinet. I am delighted with the result. Your service, courtesy & punctuality very much appreciated. A pleasure. Would highly recommend your work. Lin Fleming – Menora